gypsum powder has a broad application market. Grinding non-metallic mineral powder requires the use of professional gypsum mill equipment, processing gypsum powder 300 mesh mineral powder project, what type of recommended Mill equipment for rapid productivity increase? The new generation of environmentally friendly Raymond Mill  is to meet the 80-400 mesh gypsum powder grinding mills for production needs.
THE MARKET VALUE OF GYPSUM POWDER
Gypsum is an excellent building material. It is light in weight and easy to shape. Gypsum is divided into natural gypsum and industrial gypsum, natural gypsum is generally gypsum dihydrate mine. After gypsum is made into powder, it has many uses, such as gypsum board, cement modification, desulfurization and so on.
Raymond mill A for gypsum
Raymond mill is mainly used for grinding non-metallic mineral powder processing project mill equipment. Among them, the GK vertical pendulum grinding mill has broken through the drawbacks of traditional milling mill. It can effectively improve the unit production capacity and reduce the unit energy consumption, which can increase the production by more than 40% and save more than 30% of the unit cost of electricity consumption. And the quality of the powder particle morphology uniform and fine, high classification efficiency, energy saving and consumption reduction. It can be used to grind gypsum, marble, limestone, barite, kaolin and dolomite and other mineral powders.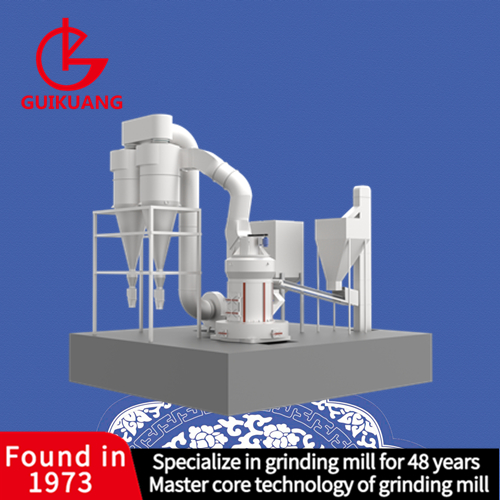 Raymond mill B for gypsum
There is also a Raymond mill, which is also favored and loved by the majority of mineral powder customers. Raymond mill upgrade mill equipment. It can grind powder such as marble, bauxite, limestone, gypsum, barite and kaolin, etc. The grinding mill has a large conveying capacity, large shovel capacity, energy saving and low noise, high output rate and low consumption. The equipment has large conveying capacity, large shoveling capacity, energy saving and noise reduction, high powder yield, low energy consumption, which is the exclusive equipment for non-mining processing projects.