GKLMX superfine vertical roller mil is a type large superfine vertical mill which is suitable for non-metallic ore superfine grinding processing and large-scale production based on the advanced technology of superfine vertical mill from Germany, Japan and Taiwan and combined with our company's nearly 50 years of grinding machine research , development and manufacturing experience.It is composed of superfine grinding, grading and conveying, with a number of independent patent technology and many intellectual property rights, process parameters, mechanical properties of finished product powder quality and many technical indicators to reach the international advanced level.
Production Line Features: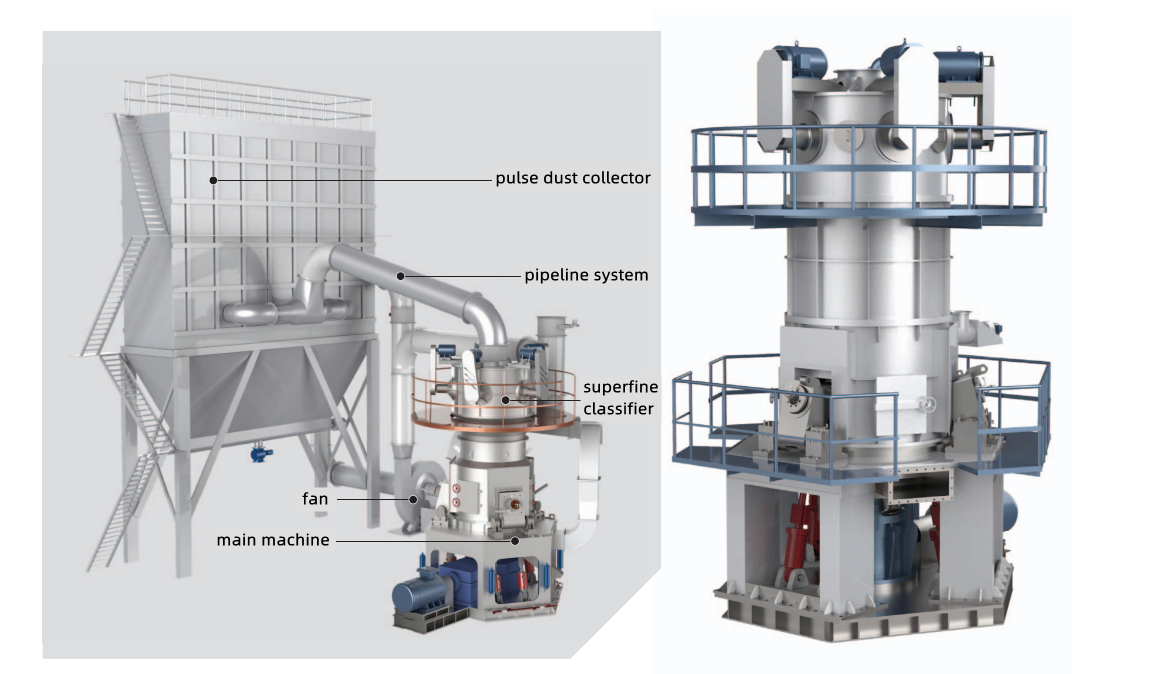 Technical Parameters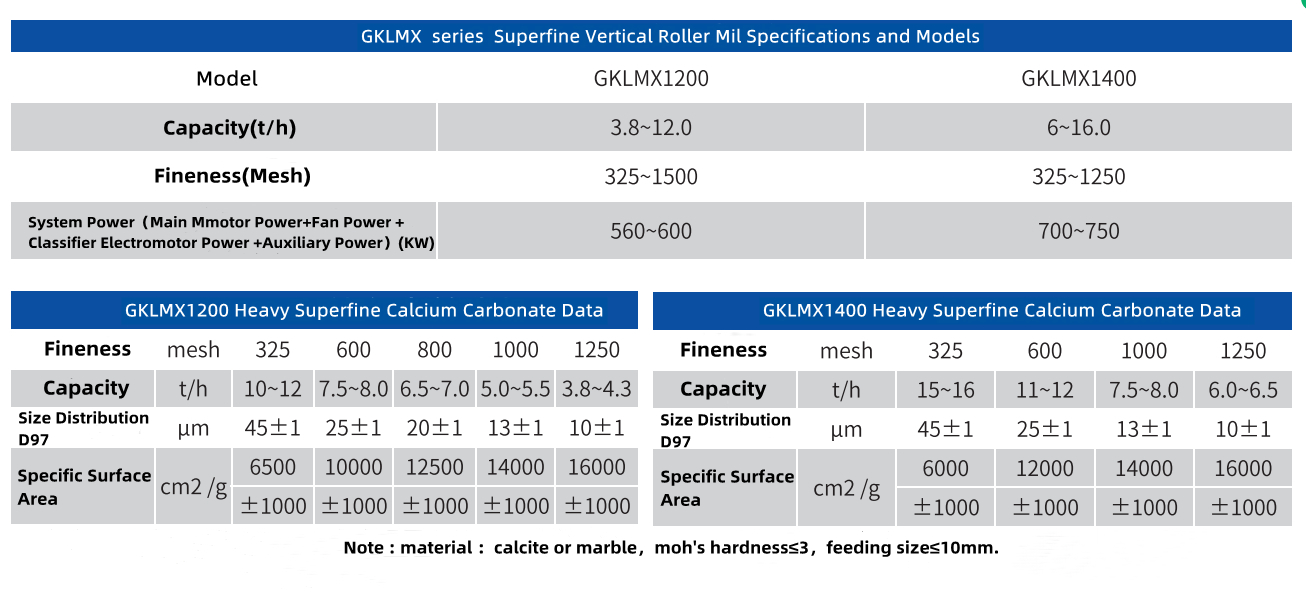 Working Principle
Vertical mill has two pairs of grinding rollers, each pair of roller composed of two narrow rollers, mounted on the same axis and can rotate at different speeds. There are two circular disc slot, and roller to the tire shape, work pressure in the tank. Disc roller and the relative sliding velocity between small and roller can swing, even if the roller sleeve and the disc after the liner wear can guarantee a good abrasive, will not affect the grinding effect. Roller symmetrical structure, one side can be upside down after use and wear. Material grinding process: hydraulic pneumatic roller device through the pressure applied to the material on the crushing of materials, the materials have been moved to crush the edge of disc, from the disc around the nozzle from the exhaust air to improve these materials to Separator.Meal to separate returns after a concentrated mill, fine powder was collected in the precipitator unloading. In the gas flow is small, the meal can not be increased to enhance air flow, they would fall through the nozzle discharged outside the mill, bucket elevator to be transported to the feeder of vertical mill and was re-grinding mill feed people.
Technical Data
High drying efficiency, Low running cost, Good environmental effect
GKLMX Vertical Mill integrates crushing, drying, grinding, classifying and conveying together, and it is specialized in processing non-metallic minerals, pulverized coal and slag. Its coverage area is reduced by 50% compared with ball mill, and the energy consumption is saved by 30%-40% similarly.
Applications: Cement, coal, power plant desulfurization, metallurgy, chemical industry, non-metallic mineral, construction material, ceramics.
1. Low Investment Cost.
This mill itself can crush, dry, grinding, classifying, so the system is simple, and occupation area is about 50% of ball mill system. In addition, it can be installed outside, so it will reduce a large number of investment costs.
2. Low Operation Cost.
⑴ High efficiency: roller compacted materials directly onto the grinding disc, so power consumption is low. Compared with ball mill, it saves energy consumption by 30% ~ 40%. ⑵ Less wear and tear: As the roller is not in direct contact with the disc, and material of the roller and liner is high quality, so life lime is long.
3. High Drying Ability.
As the hot air inside contacts directly with the material, drying ability is higher, and it saves energy. By regulating the air temperature, it can meet requirements with different humidity.
4. Simple and reliable operation.
⑴ It is equipped with automatic control systems, so remote control makes it easy to operate. ⑵ It is equipped with one device,which prevents the roller from contacting with the liner directly, and avoids the destructive impact and severe vibration.
5. The stability of product quality.
As the material stays in the mill for a short time, it is easy to detect and control the product particle size and chemical composition, to reduce duplication of milling, stable product quality.
6. Maintenance convenience.
By repairing fuel tank, rotating the arm, it is fast to replace the roller sleeve, and liner, and reduce the downtime loss.
7. Environmental protection.
It is with small vibration, low noise, and the overall sealing. The system works under negative pressure, so there is no dust going out. It meets the requirements of the state Environmental Protection.
This cycle features of the way there:
Ring by adjusting the air valve, can change the product fineness can shide mill bed load material uniformity and stability, improving the grinding efficiency;coarse particles in the external circulation, helps reduce Fan power consumption and overall system power.
Case Pictures