Natural dihydrate gypsum (CaSO4.2H2O) is a versatile, non-renewable and recyclable green natural resource.Building gypsum (β-CaSO4.0.5H2O) produced with natural dihydrate gypsum can produce a series of new gypsum building materials: paper gypsum board, plastering gypsum, plastering gypsum, gypsum dry-mix mortar, gypsum strip, gypsum block, Self-leveling gypsum mortar, gypsum decorations and other gypsum products.Among the three traditional cementitious materials, the energy consumption of gypsum production is only 1/4 of cement production and 1/3 of lime. It is the most concerned building and decoration material today.
Technical Parameters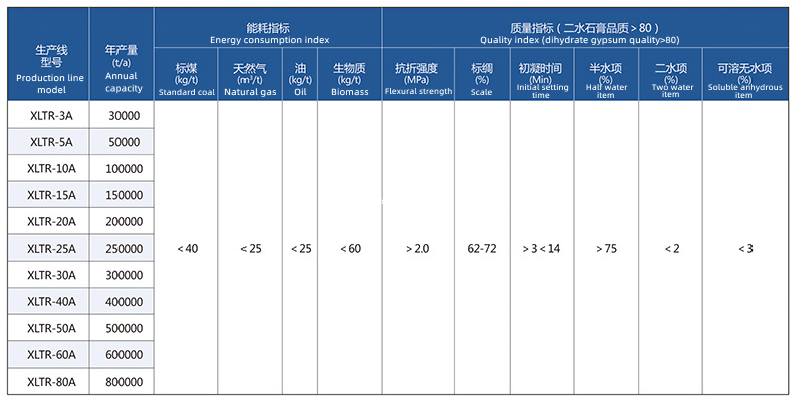 Natural gypsum powder is made of dihydrate gypsum (CaSO4.2H2O) after crushing, grinding, calcining, cooling and homogenizing, aging and packaging.The core technology of gypsum powder production is calcination (dehydration) system. The crystal structure of dihydrate gypsum, the diversity of components and reactivity, resulting in the diversity of hydration and hardening of products.We have carried out technical research on each system. With more than ten years of practical experience in R&D and production, aiming at new technologies, new materials and new products at home and abroad, we have successfully developed a series of natural stone powder production lines that are energy-saving, environmentally friendly and efficient. In addition, dozens of large-scale modern natural gypsum powder production lines have been built and the high-quality rate has reached 100%.
Production Line Features:

1 Infrastructure and equipment support are in the form of steel structures;Short construction period, less investment, covereda small area ;Save more than 60% of capital compared to traditional infrastructure;The construction period of the production line with an annual output of less than 100,000 tons is 75 working days.
2 Possess fine calcination, cooling and homogenization, gasification and aging technologies;According to the performance of raw materials and later products in different regions, individualized design is adopted to save energy by more than 20% and energy-saving equipment can save power consumption by 15-20%.
3 The production line adopts DCS automatic control technology, with a high degree of automation, stable quality and labor saving.
4 The whole line is operated under negative pressure and the dust removal adopts a three-stage dust removal system. The exhaust emission after treatment is less than 30mg/m³and the environmental protection meets the environmental protection standards of various regions.
5 Non-standard standardized production ensures the equipment quality of the entire production line, complete anti-corrosion and heat preservation measures; Optimize the technical indicators of each stand-alone equipment; The application equipment of the production line is in line with the characteristics of gypsum production;
6 Professional installation, training and debugging team; Short installation period for the whole line and original production line calcination "0" debugging cost, saving a lot of investment for new enterprises.