Lithium carbonate vertical roller mill manufacturer's GKLMX ultra-fine vertical roller mill can produce lithium carbonate 400-2500 mesh fine powder. Lithium carbonate fine powder is more easily used as a raw material for ceramics, glass, ferrite, etc.
Preparation of battery-grade lithium carbonate from different raw materials
The preparation of battery-grade lithium carbonate, the production of battery-grade lithium carbonate has a wide range of raw materials, currently commonly used crude lithium carbonate, salt lake brine, spodumene, lepidolite, waste lithium batteries, etc.
Process for preparing battery grade lithium carbonate by purifying crude lithium carbonate :
At present, the purification of crude lithium carbonate to prepare battery-grade lithium carbonate mainly includes causticization method, recrystallization method, hydrogenation method, etc.
The causticization method adds refined milk of lime to a slurry of crude lithium carbonate to form soluble lithium hydroxide. Calcium impurities mainly precipitate as calcium carbonate, while magnesium impurities form more insoluble magnesium hydroxide precipitates. After filtering to remove calcium and magnesium impurities, high-purity carbon dioxide is passed into the filtrate to obtain lithium carbonate, which is further separated from other impurities, and the precipitated lithium carbonate is dried to obtain a high-purity lithium carbonate product. This method puts forward strict requirements on the ratio of the amount of lithium carbonate and lime milk, the purity and temperature of lime milk.
Lithium Carbonate Grinding Mill Manufacturer- GKLMX Lithium Carbonate Ultrafine vertical roller mill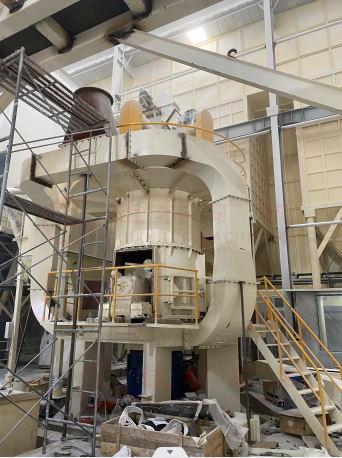 GKLMX series lithium carbonate ultra-fine vertical roller mill is a large-scale high-fine vertical roller mill developed by Guikuang based on the advanced technology at home and abroad and based on the GKLM vertical roller mill, which is suitable for the development requirements of non-metallic mineral industry. Grinding equipment. The product fineness of GKLMX lithium carbonate ultrafine vertical roller mill can be adjusted between 45um-7um. It adopts a secondary classification system, and the highest fineness can reach 3um. It can be widely used in the ultra-fine grinding of limestone, calcite, marble, heavy calcium, kaolin, barite, bentonite, pyrophyllite and other non-metallic mineral products.
【Single machine output】: 1.2~45t/h
【Powder fineness】: 45um-7um, secondary classification up to 3um