Ultrafine grinding machine is a deep processing equipment used in talc, calcite, limestone and other industries, with continuous improvement of the level of industrial manufacturing, ultrafine grinding machine was welcomed by the market for more and more high capacity, not only to improve the production efficiency, but also can bring good social and economic benefits. Talc ultrafine grinding roller mill is deep processing fine grinding equipment developed by the Guikuang combined with market development. It can significantly improve production capacity, reduce production energy consumption, and help enterprises reduce the cost of comprehensive investment, so as to achieve greater market benefits. Well, do you know what factors can affect the output of talc ultrafine grinding mill?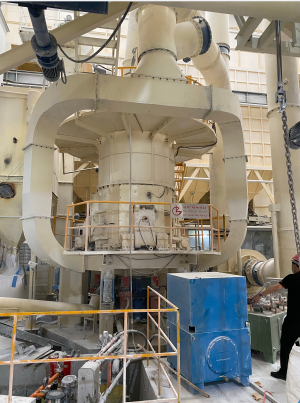 1. Humidity: the influence of humidity of the material on the capacity is unquestionable. If the water content of the material to be grinded is larger, then it is bound to be prone to adhesion in the grinding process, resulting in blockage, affecting the entire production capacity.
2. Hardness: as is known to all, the greater the hardness of materials, the harder to grinding, the greater the impact on the wear-resistant parts of the equipment, and therefore will have an impact on the milling capacity of the entire equipment.
3. Product fineness: different industries, different customer need the fineness of finished products are not the same, but it is certain that the higher fineness requirements, grinding fineness smaller, the output will also decline.
4. Material composition: the composition of many materials is more complex, contains more impurities, which will cause some difficulties to the site operation, affecting the entire delivery efficiency and output.
5. Material viscosity: this factor has a larger relationship with the capacity, the more sticky the material, the more impact of the whole equipment operation, the natural production capacity also declined.
6. Equipment wear resistance: Good wear resistance equipment can improve the whole grinding ability and efficiency, therefore, customers prefer to buy wear-resistant performance, excellent quality grinding equipment.
Guikuang is a professional manufacturer of ultrafine grinding machine, talc ultrafine grinding machine with rolling, grinding, and impacting mechanical crushing performance according to the present situation of talc, fineness can be adjusted between 325-2500 mesh, using forced turbine classifying system, product size is more uniform and fine, to produce the products with different fineness, better adapt to market demand, to help our customers to improve market competitiveness and obtain more market benefits.
【Maximum size of feed】: ≤10mm
【Production capacity】: 1-22t/h
【Finished Fineness】: 0.04-0.005mm
【Features】: Integration of rolling, grinding, impact and other comprehensive crushing performance, scientific and rational design, unique structure and innovation.
【Focus areas】: Focus on gypsum, calcite, barite, fluorite, marble and other Mohs hardness below 7 and humidity less than 6% non-metallic mineral ultra-fine processing and grinding.